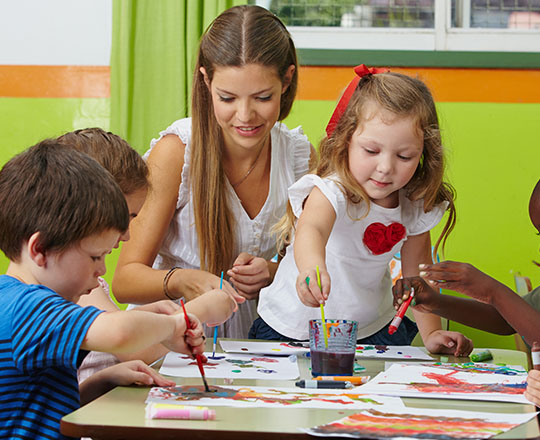 Welcome to J.E.L.A
Mission
At J.E.L.A our mission is to uncover the gifts and talents of students, so that they can reach their fullest potential. Our program consists of both teacher initiated and child initiated activities where the role of the teacher is to create learning experiences for children via direct instruction and as they move through various learning centers. We allow each child's natural curiosity to direct his or her learning experience. At the same time, we are aware of the Illinois Early Learning Standards and do our best to "intentionally" meet these standards. We provide students with an environment that is safe, supports risk-taking, invites the sharing of ideas, and incorporates the family, culture and beliefs of each student.
Purpose and Goals
The purpose of our program is to meet the needs of the individual child. We believe that collective interaction between parents, staff, children and the community will help our children reach their full potential. The child's cognitive, physical, social and emotional development will be nurtured through independent, large and small group activities. Our philosophy is that children learn when placed in an environment that is conducive to learning. Our goal is to create activities in which learning occurs as naturally as possible.
Statement of Services
Jumpstart Early Learning Academy is a year-round program that offers all early care and education for children ages 6 weeks to 6 years. Our daily activities and programming consist of a flexible schedule that has been created to provide diversity and challenge for children in all age groups. We offer a structured program for children of all ages, which includes a year round, carefully planned curriculum. Our activities include school readiness skills, such as math and reading, and we also provide ample time for arts and crafts, music, outdoor play and circle time.
Programs
Infants (6 weeks - 14 Months)
Toddlers (15 Months - 23 Months)
Two and Three Years Old
Pre-School (4 - 5 Years Old)
Our Services
Delicious Food
We believe that all children should have access to high-quality child care that is affordable and includes healthy and delicious meals.
Love & Care
Our dedicated staff creates an engaging and enriching care center in a clean, safe and nurturing environment, where our young learners are destined to thrive.
Experienced Teachers
Highly trained staff have to be qualified for a position. We selectively hire staff that genuinely loves children and has their best interest at hand because this is not just a job, it's a passion that requires us to have a big heart.
Physical Activity
Since many children are in child care throughout the week, it's important for providers to give kids daily opportunities to be active in a safe play space.